Lena Anderson Lenkiewicz|BSW, MS, MSW Student
Oncology Patient Navigator
Bartlett Medical Oncology Center (BMOC)
1701 Salmon Creek Lane| Juneau, AK 99801
907.419.5290 | Navigator f. 907.796.8771
lmanderson@bartletthospital.org | DSM. lwhighland@brh.directak.net
The goal of navigation is to reduce cancer morbidity and mortality by eliminating barriers to timely access to cancer care, which may be financial, psychological, logistic, or related to communication or the healthcare delivery system.
The Oncology Patient Navigator is a professional health care provider dedicated to helping cancer patients, families and caregivers navigate the many systems needed before, during and after diagnosis.
Navigator service request form:
https://app.smartsheet.com/b/form/6e375d3dc5b9488a81ac37737fefaa6a
About Lena:
Lena Anderson Lenkiewicz is from Minnetonka, Minnesota. Lena is married and has three children. She enjoys learning, reading, hiking, and exploring the outdoors with her family. She received her bachelor of science in social work from Saint Catherine University and her master of science in psychology, with a concentration in applied behavior analysis, from Capella University. She is currently in process of completing additional coursework for her master's degree in social work. Lena's professional experience includes pediatric and adult case management across settings, behavioral therapy and analysis, mental health, and crisis intervention. She has worked in Bartlett Regional Hospital's case management for five years. Lena is looking forward to moving into her new role as an oncology patient navigator.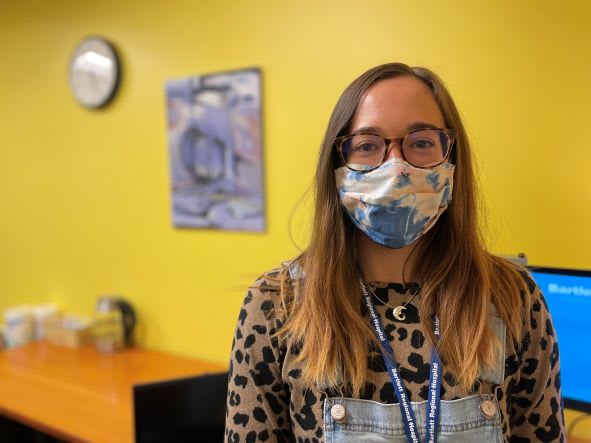 About Kevin


Kevin Lansing is from Littleton, Colorado. He enjoys spending time with his family and chasing after his two children. He received his bachelor of science in psychology from Colorado Christian University and he is currently attending Metro State University of Denver to obtain a master of social work. Kevin's professional experience includes family case management in government settings and crisis intervention. Kevin is eager to assist the oncology program as a patient navigator.