New! Bartlett Regional Hospital has collaborated with Nuance® PowerShare to offer our providers and patients a secure and time-efficient way to send medical imaging directly to the Diagnostic Imaging Department. Allowing providers and patients access to upload medical images directly helps improve patient care and reduce dependencies on CDs and DVDs. Read more about our new medical image upload process below.
The Diagnostic Imaging Department at Bartlett Regional Hospital offers a wide range of clinical and specialty services including but not limited to:
What is PowerShare?
Bartlett Regional Hospital has collaborated with Nuance® PowerShare to offer our providers and patients a secure and time-efficient way to send medical imaging directly to the Diagnostic Imaging Department. Allowing providers and patients access to upload medical images directly helps improve patient care and reduce dependencies on CDs and DVDs.
What are the system requirements?
For the best experience, please use the following internet browsers:
Chrome, Firefox or Microsoft Edge
How to Upload Medical Images Using PowerShare
1. Click the button above to access the secure PowerShare uploader page for Bartlett Regional Hospital.
2. Request an authentication code by entering your email address or mobile number and clicking on Send Authentication Code.
3. Enter the provided authentication code, then mark the box confirming you have read and accept the Terms and Conditions and HIPPA Agreement. Click Confirm Authentication Code.
4. While on the upload page click on the Choose Folder button, navigate to where the images are located, and click upload.
5. Confirm the files amount is correct on the screen prompt and click Upload.
6. Select individual or multiple studies for upload by placing a check mark in each box located next to the name and corresponding procedure. After all studies for upload are selected, click Upload.
7. Please wait until the upload process has completed for all studies. There is a progress bar located next to each study that will read Transfer Complete for each study.
8. Once all studies have been marked as complete, they are available to Bartlett Regional Hospital's Diagnostic Imaging Department.
Plain film X-rays like hips & spines, scoliosis studies and bone length evaluations to diagnosis problems in the skeletal system and more complex fluoroscopic gastrointestinal studies viewable in real-time to evaluate the GI tract, therapeutic joint injections for pain management and diagnostic arthrograms for evaluation of problematic joint extremities.
Plain film X-rays are performed on a walk-in basis Monday thru Friday between 7:30am and 4:00pm.
Bartlett Regional Hospital serves Juneau, Alaska and the surrounding communities with 2 state-of-the-art CT scanners. Both machines provide high-resolution, low-radiation images and are employed for use in a variety of circumstances, evaluations and diagnoses.
*Appointments for CT can last up to 60 minutes, though the actual time spent in the machine is usually far less.
Exams can be scheduled Monday-Friday starting at 7:30am and they are primarily scheduled between 7:30am and 11:30am.
Evenings and weekends are covered around-the-clock through the Emergency Department here at Bartlett.
COVID-19 Vaccine Announcement: In order to reduce the chances of a false positive screening mammogram it has been suggested that women wait 6 weeks after vaccine to get a screening mammogram or follow up breast MRI, reactions to the vaccine has caused the lymph nodes in the axilla (under arm area) to become temporarily inflamed and can mimic a breast mass.
Any palpable mass in the breast or axilla should be discussed with your healthcare provider without delay. Screening mammograms are for patients that are not having any signs or symptoms.
When scheduling routine screening exams we will ask if you have had your last Covid vaccine in the last 6 weeks.
Mammograms are performed by specialized mammography technologists, with attention to both patient physical and emotional needs. Screening mammograms are used to check for breast cancer in women who have no signs or symptoms of the disease. Diagnostic mammograms are used to check for breast cancer after a lump or other sign or symptom of the disease has been found. Early detection of breast cancer with screening mammography means that treatment can be started earlier in the course of the disease, possibly before it has spread. Getting a high-quality screening mammogram and having a clinical breast exam on a regular basis are the most effective ways to detect breast cancer early. Screening mammography can help reduce the number of deaths from breast cancer among women ages 40 and over.
Bartlett Regional Hospital is dedicated to providing the highest standard of care for our community, locally offering the only state of the art 3D Mammography™ exams from Hologic, a global leader in breast cancer detection. Low Dose Genius 3D MAMMOGRAPHY™ exams are an advanced type of digital mammogram that offer better cancer detection, fewer call backs, and minimal compression time. Our mammography department also has the Hologic Affirm upright stereotactic biopsy system.
BRH mammographers are American Registry of Radiologic Technologists-certified in mammography, and our facility is certified by the U.S. Food and Drug Administration and is American College of Radiology-accredited for mammography.
Hours: M-Th, 7:00 a.m.- 2:30 p.m., Friday 8:00 a.m.-2:30 p.m.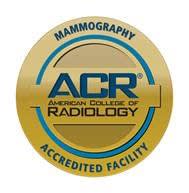 MRI stands for magnetic resonance imaging, a noninvasive technique that uses harmless radio waves rather than x-rays to create images. It is particularly useful for imaging soft tissues of the body, such as the brain, spinal cord, muscles and ligaments, and detecting abnormal tissues such as tumors.
All MRIs must be scheduled and preauthorized. Call the number on the back of your insurance card for preauthorization, or speak with your ordering physician's office staff.
The MRI machine utilizes a very powerful electromagnet, which is 30,000 times stronger than the earth's magnetic field. The presence of the strong magnetic field means that metal objects of any kind are not permitted within the scan room at any time.
All patients undergoing an MRI will be screened prior to their MRI to ensure all internal objects are MRI-compatible.
Some metal implants do not rule out using an MRI scanner, but some do, and it is important to tell the technologist about any implants or metallic objects.
An MRI scan can last anywhere from 30 minutes to an hour, depending on the scan being performed. The scan consists of sequences lasting from 15 seconds to 7 minutes during which the scanner makes knocking noises, which can be quite loud. All patients are provided with hearing protection, and some scans allow the patient to listen to music during the scan. For some patients, claustrophobia may be an issue as the space within the MRI can be confining. Subsequently, those with claustrophobic anxiety and children may need light sedation, which will need to be ordered by the patient's referring physician.
After the MRI scan, a radiologist, who is a physician experienced in MRI and other radiology examinations, will analyze the images and send a report with his or her interpretation to the patient's personal physician. The patient receives MRI results from the referring physician, who ordered the test. The normal time for results to be available is 24 to 48 hours after the MRI is finished.
Nuclear medicine offers radiopharmaceutical diagnostic scans. Our leading-edge, dual-head SPECT gamma camera offers quality imaging. Also available is a thyroid probe/well counter for dedicated thyroid readings. On-site, board-certified radiologists read all exams.
Nuclear medicine is unique in that it offers doctors a noninvasive look at both structure and function in the human body. Bartlett Regional Hospital is licensed by the Nuclear Regulatory Commission.
Ultrasound and sonography exams are performed by sonographers, who are specially trained to use this technology. Ultrasound utilizes high-frequency sound waves to view soft tissue structures such as internal organs, vessels and muscles. The transmission of these sound waves and the returning sound waves, or echoes, that are reflected off of body structures create the ultrasound images. Unlike an x-ray or CT, ultrasound offers no radiation exposure to the patient.
Bartlett Regional Hospital offers ultrasound appointments Monday through Friday, 7:30 a.m. - 3:30 p.m.
Bartlett Regional Hospital offers general diagnostic ultrasound exams, as well as more specialized exams such as echocardiograms and vascular studies, and can perform 3-D reconstruction on some studies, including OB.
We also perform ultrasound-guided biopsies.
DEXA scans provide data to evaluate for osteoporosis or risk, known fractures, complications of long-term use of hormones or steroids that can cause bone-related health problems.
DEXA scans are scheduled on Tuesdays between 7:30 a.m. - 2:30 p.m.
Bartlett Regional Hospital offers the BodyLogic™ Advanced Body Composition scan, which is a great tool for starting a diet or exercise program:
Accurately measures fat, lean mass and bone
Provides a visualized graph of body composition and distribution
Tracks weight loss when used in conjunction with diet or exercise program
Replaces BMI with FMI, or Fat Mass Index, for a more accurate assessment of obesity
Helps with injury rehabilitation
Cost:

Single - $125
Package of 3 - $250
Call Bartlett Radiology at 907.796.8802 to schedule your appointment.
No referral necessary, not covered by insurance.
DEXA scans are scheduled on Tuesdays between 7:30 a.m. -2:30 p.m.
General radiology records are kept for 7 years in accordance with AS 18.20.085.
Mammography and breast imaging records are kept for 10 years per Bartlett Regional Hospital policy.
Records can be obtained by the patient via written or verbal request, depending on circumstances, or released to a provider of the patient's choice.
Copies of images can be obtained on CD/DVD, thumb drive, or accessed via the web with a Nuance® PowerShare account.