Have a safe and happy holiday season
Advice for healthy holiday gatherings from the infection preventionist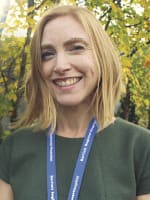 For two years, Charlee Gribbon, RN, MPH, has been laser focused on three things: getting her colleagues and the community vaccinated against COVID-19, promoting the wearing of masks to prevent spread of the virus, and reminding everyone to wash their hands. Charlee is just doing her job. As the infection preventionist at Bartlett Regional Hospital, her duties took on a whole new layer of significance with the virus.
Now with palpable pandemic fatigue affecting most of the population, Charlee fears this winter could be worse than last. "We're all really tired of wearing masks and not seeing our friends and family," she says. But with another holiday season upon us, she emphasizes that now is not the time to let down your guard, especially with the much more transmissible Delta variant still lingering.
What's a holiday-gathering-starved Alaskan to do? Get creative and change your attitude for starters. Here are Charlee's top recommendations for happier holidays.
Plan to be infection-free
The more we mix with different school, home and work groups, the more opportunity the virus has to spread in households over the holidays. It takes planning to create a great meal for your family. By the same token, plan to lower possible exposure to the virus by limiting your social engagements leading up to a holiday gathering.
Have a safe gathering
The same things we were doing last year we should continue to do this year. That means stay in your bubble and avoid large gatherings with multiple households. If you must have a group, buy a couple of air purifying filters and keep them humming around the dining room table.
It's OK to cancel
The pandemic is still a moving target. If you feel sick, cancel your gathering. It is not worth the risk of spreading the virus. "Don't infect your friends and family because you are dead set on having this party you put so much planning into," Charlee advises.
Self-care is life
A lot of people were sensing the need to slow down and get healthier before the pandemic. Now changing your lifestyle is more important than ever. "We need to be aware of how our behavior and our life choices affect our health," says Charlee.
Vaccines boost your immunity, as does eating healthier foods. Feed yourself, friends and family with good medicine full of vitamins and protein. Limit the sugar and alcohol. Too much of anything can be a toxin to your body.
Alcohol consumption has gone up during the pandemic. "We may feel like we need some kind of release or altered reality," says Charlee. "But we may just need a change in perspective." Charlee's go-to perspective adjuster that has not changed with COVID-19? Walking outdoors with friends.
Recognize what stresses you out
That includes cooking. If making an elaborate meal exhausts you, which can lower your immunity, make it simple. For Thanksgiving this year, Charlee made wild rice with mushrooms, cranberries, pecans and vegetables.
Charlee's holiday immunity wild rice
1½ cups uncooked wild rice blend (such as Lundberg) (about 9 ounces)
2¾ cups chicken broth, divided
2 bay leaves
1½ teaspoons kosher salt, divided
3 tablespoons olive oil, divided
2 leeks, trimmed, halved lengthwise, and finely chopped
2 carrots, finely chopped
2 celery stalks, finely chopped
2 shallots, finely chopped
3 garlic cloves, finely chopped
2 teaspoons finely chopped fresh sage
1 teaspoon fresh thyme leaves
1 pound fresh wild mushrooms, cut into large pieces ( I like to double this)
1 cup unsweetened dried cranberries
1 cup roasted and peeled whole chestnuts (such as Gefen), or toasted pecans, chopped
1 tablespoon white truffle oil, optional
Fresh sage leaves, for garnish
Leftover turkey or chicken—I add this to it the day after and mix it all up like a fried rice.
Directions
Stir together rice, 2½ cups chicken broth, bay leaves and ¼ teaspoon salt in a medium saucepan. Bring to a boil over high. Reduce heat to low, cover, and simmer until liquid is absorbed, 40 to 45 minutes. Remove from heat, and let stand, covered, until rice is tender, about 10 minutes. Fluff with a fork, and set aside. While rice cooks, heat 2 tablespoons oil in a large skillet over medium. Add leeks, carrots, celery, shallots and garlic, and cook, stirring occasionally, until leeks are crisp-tender, about 8 minutes.
Add chopped sage and thyme leaves, and cook, stirring constantly, until fragrant, about 1 minute.
Add mushrooms and remaining 1 tablespoon oil, and cook, stirring often, until mushrooms are tender and lightly browned, 10 to 15 minutes.
Transfer mushroom mixture to a large bowl; fold in wild rice, cranberries, chestnuts, remaining ¼ cup chicken broth, remaining 1¼ teaspoons salt, and, if using, truffle oil until well mixed.
Transfer to a serving dish, and top with sage leaves.
Make ahead: This can be made two days ahead, refrigerated and served as a rice salad. Bring to room temperature and garnish with sage just before serving.
Categories: Well-being
Craving more?
You're in luck! You can find more healthy and delicious recipes online.