Recognizing our amazing staff
Each year Bartlett staff who go above the expected; help others in need; build trust with colleagues; and embody the BRH CARE values of courtesy, accountability, respect and excellence are presented peer-nominated CARE (clinical) and Forget-Me-Not (nonclinical) awards by the Employee Engagement Committee. Congratulations to the 2021 CARE winners, Andrew Vallion and Houston Laws, and Forget-Me-Not winners, Eloisa Rodriguez and Tracy Olson.
Andrew Vallion, CARE Award
Pharmacist and Vaccine Coordinator Andrew Vallion found himself in quite a trying position with the pandemic. Andrew took on the incredible responsibility of ordering, storing and tracking not only all vaccines, but especially the COVID-19 vaccines.
His peers nominated Andrew "to recognize and thank him for his tireless work managing vaccine distribution in Juneau. He attended hundreds of Zoom meetings, stayed vigilant with email tracking notices and answered many phone calls on his days off. Throughout all this, he remained calm, patient and positive. We could not have had a better vaccine coordinator."
Houston Laws, CARE Award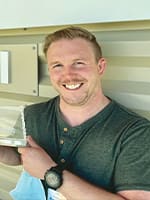 Behavioral Health Assistant Houston Laws was nominated for his dedication to high-quality, patient-centered care, among other attributes. "I am grateful for the Bartlett family and the crew that I work with," says Houston.
As his supervisor writes, "He has the ability to make meaningful and authentic connections with staff and patients alike. He is constantly finding creative ways to meet our patients' needs and is always willing to advocate for their best interests in a respectful and collaborative way.
"His presence is even felt when he is not here, by his origami art that decorates patient rooms and the dayroom. We are truly appreciative of all of the hard work and compassionate care Houston provides our patients and are grateful he has chosen to be a part of the Mental Health Unit for the past 10 years."
Tracy Olson, Forget-Me-Not Award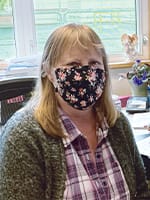 Payroll Specialist Tracy Olson was honored for going way above and beyond her job duties. For 16 years, Tracy has been doing her best to get her colleagues paid on time. She caught the attention of a fellow staff member in early December 2020, when a landslide hit her car en route to work. Despite the shake-up, Tracy came to work to finish the biweekly payroll!
Tracy is modest about the honor: "We have a great BRH family," she says. "And that's what you do for family."
Eloisa Rodriguez, Forget-Me-Not Award
The unforgettable long-time employee Eloisa Rodriguez garnered multiple staff nominations for her dedication to keeping our hospital clean and for her loving and caring attitude toward patients and fellow staff. Learn more about Eloisa on page 5.
Congratulations to our nurses!
Every year, Bartlett medical staff (physicians with hospital privileges and hospitalist staff) present a Nursing of Excellence award to a Bartlett nurse for following the highest standards of nursing practice, professionalism and leadership.
This year, medical staff partnered with the Bartlett Foundation to present the 2021 Nursing of Excellence to "All BRH Nursing Staff" who had "the courage to show up for work every day to face a life-threatening pandemic and, despite risking their own lives, had the resilience to keep helping our patients and our community."
The nurses in the photo accepted the award on behalf of the approximately 200 nurses on staff at Bartlett Regional Hospital.
Categories: Staff awards
Share your thoughts!
Is there a Bartlett staff member you want to thank? Someone who really left an impression? Let us know! Visit bartletthospital.org/thanks.