Big thanks to Bartlett Beginnings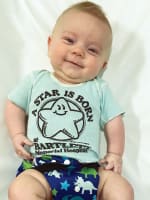 I can't say enough good things about our time at Bartlett Beginnings for the birth of our son. We are so fortunate here in Juneau to have a hospital with a dedicated birthing center staffed by a highly knowledgeable and passionate team. Everyone from the doctors to the nurses and the custodial staff all went above and beyond to both make us feel empowered about our decisions during the birthing process and keep us comfortable throughout our stay.
My water broke almost four weeks ahead of schedule, which meant a surprise early trip to the hospital with induced labor and a few other quick decisions that weren't a part of our original birth plan. Go figure! We ended up needing to stay four nights due to the complex nature of a late term premature birth, but despite the inevitable ups and downs of having our son nearly a month early, I genuinely felt relaxed knowing we were in expert hands. My husband and I were particularly appreciative of all the little newborn tips and tricks the nurses passed along. Our experience at Bartlett left us feeling much better equipped to take on the challenge of first-time parenting, but also safe in the knowledge we can call anytime day or night with questions. What a lifeline!
Bartlett Beginnings truly created the perfect environment for welcoming our baby into this world. I will forever be grateful to the staff for the excellent care we received!
—Catherine Hatch
Categories: Patient feedback