MINDing what you eat may keep your brain fit in old age
People over the age of 60 are the largest demographic in Juneau and greater Southeast Alaska. Alzheimer's dementia is the sixth leading cause of death in the United States and impacts an estimated 11 percent of the population age 65 and older; prevalence increases to 33 percent of people age 85 and older. The good news is that regular exercise and a healthy diet have been shown to slow cognitive decline in older adults.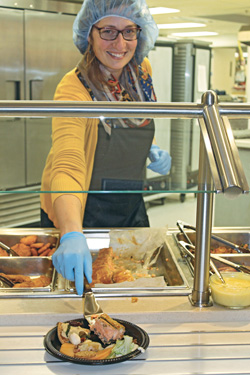 Food and Nutrition Services director
serves up some wild salmon,
a key element of the MIND diet.
With that in mind, Bartlett Regional Hospital's Food and Nutrition Services Director Kari Natwick, RDN, LD, recommends the MIND diet, which stands for Mediterranean-DASH Intervention for Neurodegenerative Delay. Mediterranean refers to the longevity and lower risk of cognitive decline observed in older people in regions like coastal Greece, where they eat more white meats, fish, beans and greens.
The study
The diet was developed by Martha Clare Morris, a nutritional epidemiologist at Rush University Medical Center, through a study funded by the National Institute on Aging. Morris' team followed the food intake of 923 Chicago-area seniors over the course of 4 1/2 years. During that time period, 144 members of the study group developed Alzheimer's dementia. However, researchers observed that the longer people in the study group followed the MIND diet patterns, the lower their risk of developing Alzheimer's dementia.
The MIND diet study considered 15 components of the participants' diets: 10 beneficial brain foods (green leafy vegetables, other vegetables, nuts, berries, beans, whole grains, seafood, poultry, olive oil and wine) and five harmful brain foods (red meat, butter/stick margarine, cheese, pastries/sweets and fried/fast food).
Even people who made modest changes to their diets had a lower risk of developing Alzheimer's. The MIND diet lowered Alzheimer's risk by about 35 percent for people who followed it moderately well and up to 53 percent for those who adhered to it rigorously.
Making it easy—MIND diet tips
For many people, the MIND diet is relatively easy to implement. The following are some simple changes to help follow the MIND diet:
Add garbanzo, black or kidney beans to salads.
Snack on walnuts, almonds or pistachios.
Daily, include berries at lunch or as a snack.
Use olive oil and vinegar for salad dressing instead of commercial dressings.
Sprinkle nuts over pasta dishes, cereal, yogurt or oatmeal.
Make your own salad dressing by pureeing berries with olive oil and other spices.
Swap steak and hamburger for white meat chicken or turkey, salmon, or tuna.
Use beans as a primary source of protein in at least two meals per week.
Sauté vegetables in olive oil instead of butter.
Choose fruit or berries for dessert instead of cake or cookies.
Experiment with different greens, such as kale, spinach, collard or mustard greens, or Swiss chard.