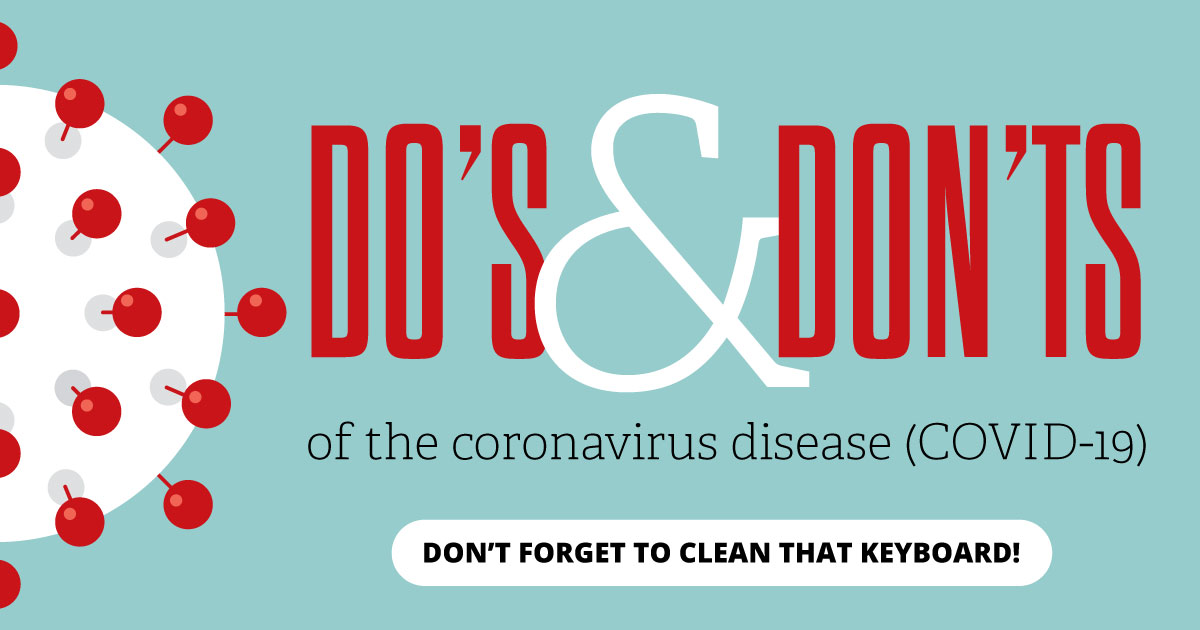 Reviewed 5/27/2020
Do's & don'ts of the coronavirus disease (COVID-19)
COVID-19 is making news around the world. Every day brings new details about the number of people infected and where the virus is spreading.
Although information about COVID-19 is changing rapidly, some basic do's and don'ts about the virus remain the same.
DO:
Know the symptoms. You may have COVID-19 if you have:
Cough.
Shortness of breath or difficulty breathing.
Fever.
Chills.
Muscle pain.
Sore throat.
New loss of taste or smell.
DO:
Wash your hands often with soap and water or use a hand sanitizer that contains at least 60% alcohol.
Cover your mouth and nose with a tissue when you cough or sneeze, or use the inside of your elbow. Throw tissues in the trash.
Clean and disinfect frequently touched surfaces daily, including tables, doorknobs, countertops, desks, phones and keyboards.
Call your health care provider if you have symptoms. Let them know you may have the virus.
Wear a cloth face mask in public.
DON'T:
Touch your eyes, nose and mouth with unwashed hands.
Spend time with people who are sick.
Go out in public if you're sick unless it's to get medical care.
Share household items, like dishes, drinking glasses, eating utensils, towels or bedding, with other people if you're sick.
The Centers for Disease Control and Prevention updates its information about COVID-19 daily.
Source: Centers for Disease Control and Prevention