David Keith
Chief Executive Officer
907.796.8438

David Keith joined the Bartlett senior leadership team as Chief Executive Officer (CEO) on August 15, 2022.
Mr. Keith previously served as the President and CEO for McAlester Regional Health Center since September 2011. Mr. Keith has over three decades of administrative and operational healthcare leadership experience, including prior experience in Alaska at Providence Alaska Medical Center and Alaska Native Medical Center in Anchorage. "Mr. Keith's breadth of experience at similar hospitals and clear vision for Bartlett's future gave the board great confidence in his appointment," said Kenny Solomon-Gross, Board President. "He understands the climate of healthcare in Alaska and is eager to lead our organization through imminent change as we work to improve our delivery of quality care to our community."
Mr. Keith holds a Bachelor of Science degree from the University of Texas and a Master of Science degree in Health Care Administration from Trinity University.
Sam Muse
Chief Financial Officer
907.796.8402
Sam Muse assumed the CFO position in January 2023. Mr. Muse joined the Bartlett team in August 2022 as the Controller, responsible for overseeing the accounting operations of the hospital. Mr. Muse transitioned into the Interim CFO position in November 2022. Mr. Muse is a lifelong Alaskan with over 12 years of accounting and auditing experience, most recently serving as the City & Borough of Juneau's (CBJ) Controller since 2017. Mr. Muse has worked closely with Bartlett on several previous occasions, including managing the hospital's Enterprise Fund account as the CBJ Enterprise/Internal Service Fund Accountant from 2014 to 2017. Prior to that role, Mr. Muse served as an auditor for a certified public accounting firm in Anchorage and the Alaska Legislature Division of Legislative Audit. Mr. Muse holds a Bachelor of Business Administration from Gonzaga University.
Kim McDowell
Chief Nursing Officer/Chief Operating Officer
907.796.8310
Kim McDowell began her journey at Bartlett Regional Hospital in 2015, working in the Emergency Department (ED) as a nurse on an as needed basis. In 2016 she moved into the Clinical Assistant Manager role and over the following years became the ED Director. In 2021, she became Chief Nursing Officer. In 2022, she became the Chief Nursing Officer/Chief Operating Officer. Prior to coming to Bartlett Regional Hospital she worked as an ED nurse, charge nurse, and Clinical Supervisor in a 65-bed unit. She believes that when you place the patient in the center of all you do, you will never go wrong, aligning with Bartlett Regional Hospital's mission to provide quality, patient centered care.
Ms. McDowell holds an Associate of Applied Science in Nursing from Central New Mexico Community College, a Bachelor of Science in Nursing from New Mexico Highlands University, and a Master of Science in Nursing with a concentration in Nursing Administration from the University of Phoenix.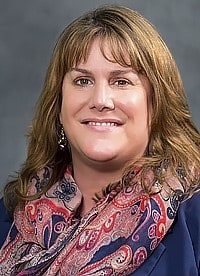 Tracy Dompeling
Chief Behavioral Health Officer
907.796.8583
Tracy Dompeling joined the Bartlett senior leadership team as Chief Behavioral Health Officer (CBHO) in June 2022.
Ms. Dompeling previously served as the Director of the Division of Juvenile Justice (DJJ) with the State of Alaska. She brings to Bartlett over 20 years of leadership, supervisory, and project management experience in Alaska in addition to collaborative working relationships with leadership in the Division of Behavioral Health, Office of Children's Services, Alaska Psychiatric Institute, Division of Public Health, Department of Law, Department of Corrections, and the Alaska Mental Health Trust.
Ms. Dompeling holds a Bachelor of Arts degree in Social Work with a minor in Justice and a Master of Arts degree in Justice Administration from the University of Alaska Fairbanks.
Dallas Hargrave
Chief Human Resources Officer
907.796.8677
Dallas Hargrave joined the senior leadership team of Bartlett Regional Hospital in January 2016 in his role as Human Resources and Risk Management Director for the City and Borough of Juneau.
Mr. Hargrave previously served as the Human Resource Manager for the State of Alaska, Department of Health and Social Services; worked in the State of Alaska, Department of Administration, Division of Personnel and Labor Relations; and also worked as an Assistant Public Defender and as a Law Clerk.
Mr. Hargrave possesses a BA in Biology and Political Science from Pacific Lutheran University, a Master of Public Administration from the University of Alaska, Southeast, and a Juris Doctorate from the University of Denver, Sturm College of Law.